Dominy Homestead
Located on North Main Street in East Hampton, the Dominy homestead was adapted over its lifetime to support over three generations of the Dominy family and accommodate their woodworking and clockmaking businesses. Although the house was torn down in the mid-twentieth century, the East Hampton Historical Society plans to rebuild the house in the near future.
Image Credit: Childe Hassam, The Old Dominy House (East Hampton), 1928. Smithsonian American Art Museum.
Deacon David Talmage
Deacon David Talmage was a frequent customer of the Dominy family as well as a supplier of metalwork objects such as furniture hardware and tools. In 1795, Talmage made this Arbor & Cross for Nathaniel IV, enabling him to turn stands on the great wheel lathe. The Talmage family was one of East Hampton's earliest families and owned land on 8 Haynes Lane.
Image Credit: Winterthur, 1957.26.370
Hook Hill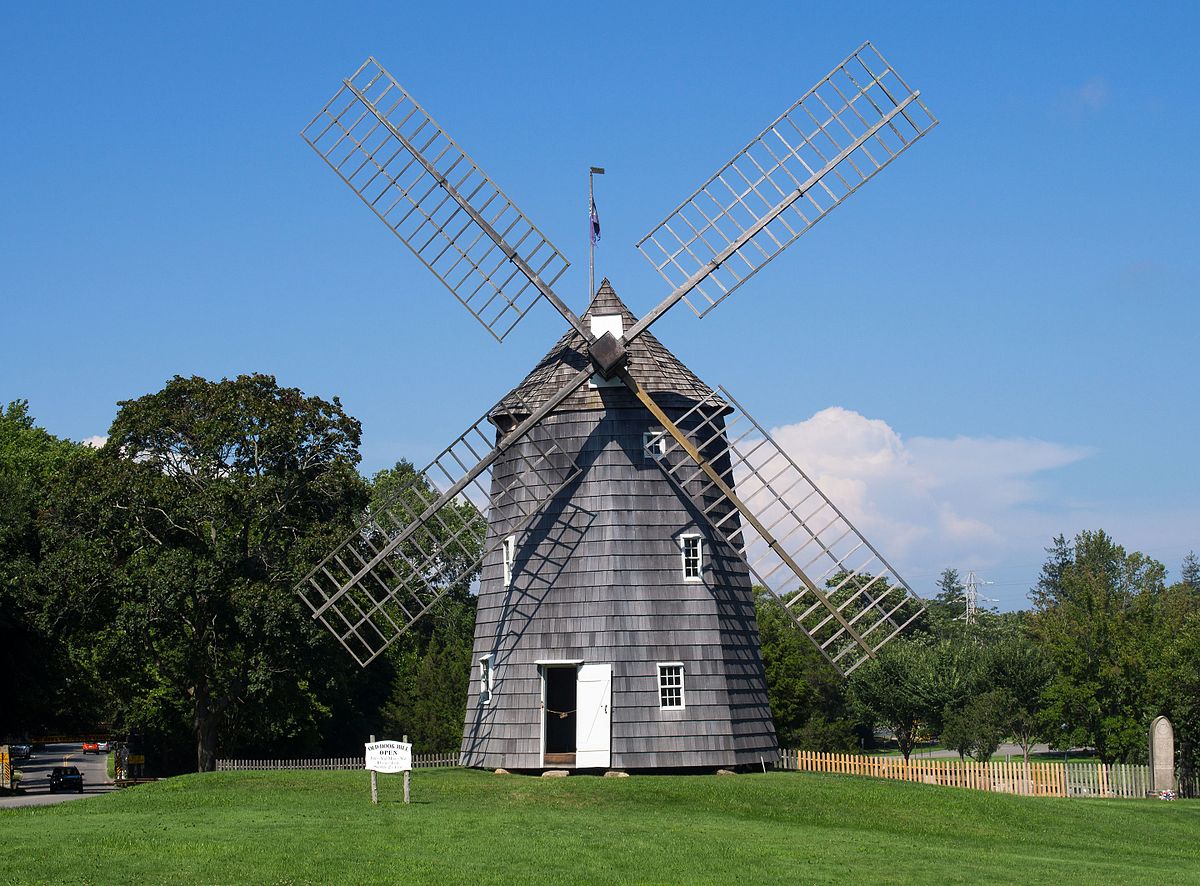 In 1806 Nathaniel V built a wind-powered gristmill in the East Hampton enclave of Sandy Hook (later truncated to "The Hook"), where it remained in continuous operation until 1908. In 1939 his great-grandson, Charles Mulford Dominy, restored the structure for the town, ensuring its preservation as an important local landmark.
Image Credit: Library of Congress
Northwest Harbor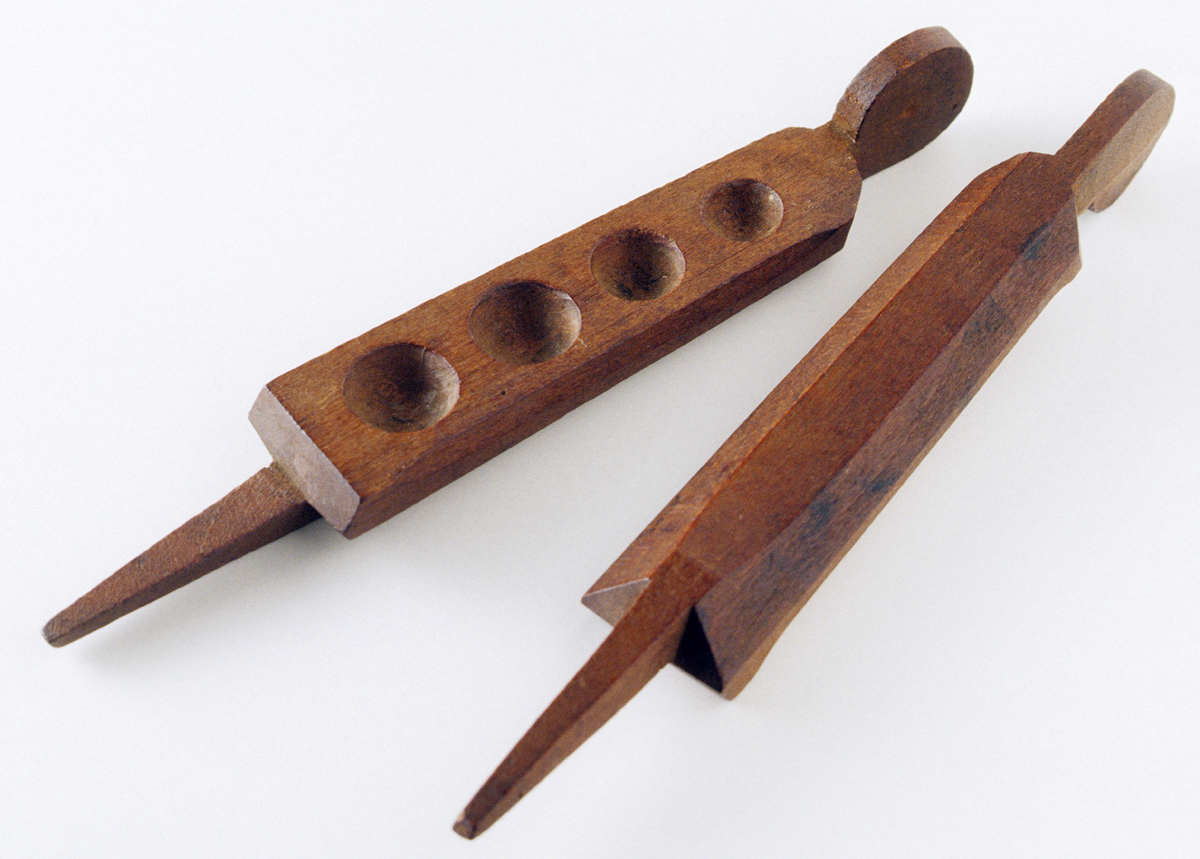 In the 1760s, Nathaniel IV joined neighbors in protesting British taxation by signing an East Hampton non-importation petition. He made shot and bullet molds for, and participated in, the local militia company organized to defend the township when the British occupied New York during the American Revolution. Only a few miles away, Northwest Harbor was the site of Meigs Raid during which Americans sucessfully defeated 90 Loyalists.
Image Credit: Bullet mold pattern, 1957.0084.003
First Presbyterian Church
Nathaniel Dominy IV and Nathaniel Dominy V were baptized in the second building of the First Presbyterian Church, constructed in 1717. No indication is given of Felix Dominy's religious affiliation; but while he lived in East Hampton, he undoubtedly attended services with his grandfather and father at the Presbyterian Church.
Image Credit: W.W. Munsell & Co., History of Suffolk County, New York, with Illustrations Portraits and Sketches, 1882.
Clinton Academy
Clinton Academy, the first college preparatory school on Long Island, was founded at East Hampton in 1785. By 1815 its enrollment had reached 156 pupils, and it is entirely possible that both Nathaniel Dominy V and Felix Dominy received schooling there. Felix Dominy clearly believed in the value of a good education; two receipted tuition bills for the schooling of his son (Nathaniel VII [1827–1910]) in 1833 and 1834 so testify.
Image Credit: Clinton Academy, East Hampton NY, c. 1920s, colored postcard. Detroit Publishing Company.
Three Mile Harbor
Fishing, hunting, and occasional jaunts to pick ripe fruit were diversions close at hand for the Dominy craftsmen. These pastimes were certainly enjoyed by Nathaniels IV and V and their families at an earlier period. Entries in Felix's weather journal show that between May and the end of July, 1822, he caught twenty-six fish at Three Mile Harbor.
Image Credit: Thomas Moran, , 1837-1926, etching, "Three Mile Harbor", 1880. Gilcrease Museum.
General Miller's House
Felix Dominy enjoyed the popular dances of his day. During the 1830's a dancing school was held at General Jeremiah Miller's home (built in 1799) with instruction by a French master. Felix paid $1.25 for "tuition in the art of Dancing" and listed the dances he had learned plus the instructions for performing them.
This Georgian house was moved back on its lot and remodeled in the colonial style in 1885. It is currently a private residence.
Lily Hill Burial Ground
Many members of the Dominy family are buried at Lily Hill Cemetary, the site of a former farm.
Mulford Farm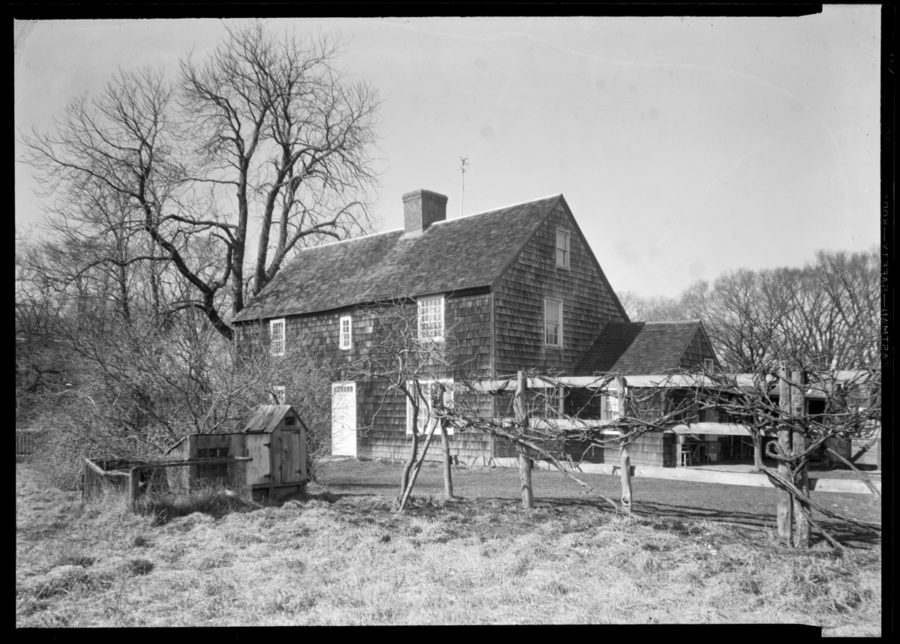 Mulford House & Farm is one of the oldest homes in East Hampton, dating to 1680. Several generations of the Mulford family lived in this house since 1712 and commissioned furniture from the Dominy family, including beds, writing desks, and a breakfast table. Some of this furniture can today be viewed at the Mulford Farm Museum, part of the East Hampton Historical Society.
Image Credit: Historic American Building Survey, c.1940
Pantigo Windmill
Samuel Schellinger built the Pantigo Windmill for Huntting Miller in 1804. Nathaniel Dominy V made frequent repairs to the mill, including one for Miller in 1821 and another for subsequent owner Captain William Hedges in 1834. Dominy charged Hedges to "put in shaft Cogs and Rounds." In 1865, Nathaniel Dominy VII purchased the mill and attempted to continue operating it in 1878. The following year, a storm destroyed many of the parts and Dominy ceased his efforts. The mill was moved from its original location on Pantigo Road to its current location behind the historic "Home Sweet Home" house in 1917. The Village of East Hampton acquired the structure in the 1970s and have made major repairs.
Image Credit: Library of Congress, c.1978.
Gardiner Mill
Nathaniel Dominy V built Gardiner Mill for John Lyon Gardiner in 1804 at a cost of more than 528 pounds. It operated only a short distance away from Pantigo Mill (in its original location) until 1900. It remains on James Lane in East Hampton.
Image Credit: Harvey Ginsberg Postcard Collection, Courtesy of East Hampton's Long Island Collection.