The screw box (right) was used to cut a spiral thread on wood cylinders, thus creating screws for clamps, lathe puppet, bench vises, and any other tool for which a large wooden screw was needed. The cutter fits into a channel at the upper right-hand side of the block, and a wide path at the lower right of the block was cut as a discharge space for shavings. Whether the screw box was clamped in a vise and the wood cylinder forced through it or it was twisted on a cylinder fastened in a vise, strength was required to cut a screw with this tool. Its prime advantage was, of course, that it could cut screws of a standardized pitch and diameter endlessly.
Screw box, Nathaniel Dominy IV (stock maker; local smith, cutter maker), 1770-1800. Oak, red; Hickory; Steel. 9.4" (L), 3.0" (W). Gift of Robert M. Dominy, 1957.0093.061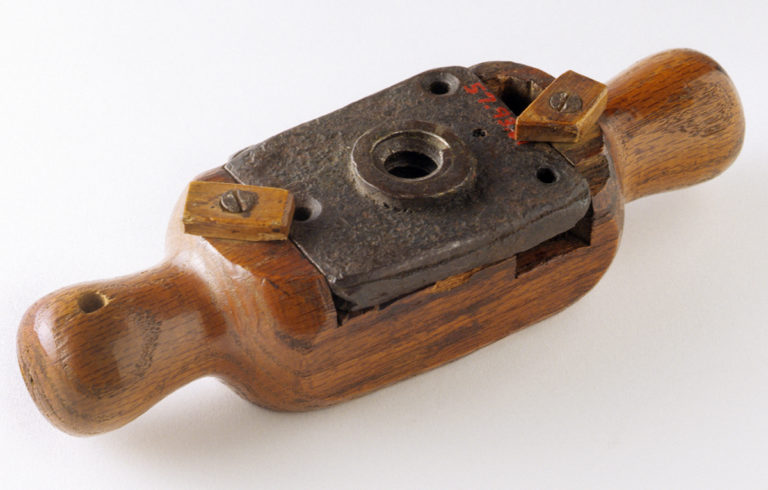 The screw tap cuts an internal thread and was used to make threaded receptacles for screws on lathe puppets, clamps, and other tools employing wood screws. It closely resembles an auger, and the tang of its shaft pierces the handle in order to clinch over the top. Wooden screw taps were used to cut threads for the double screws on the vises of the workbenches. A gouge was used to start a hole and an auger to cut a large, deep opening; then a reamer might enlarge the hole cut by the auger. Finally the screw tap was inserted into the hole and, with a twisting motion, cut spiral threads.