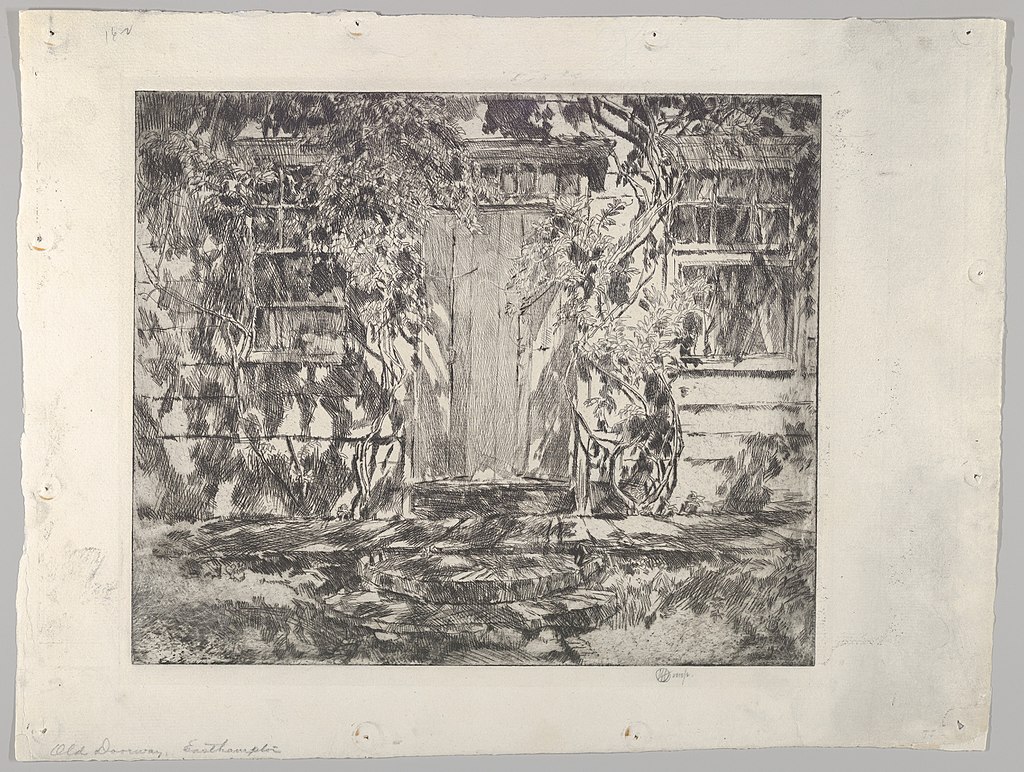 The Dominy family enjoyed hunting, fishing, fruit picking, and other pastimes. Avid readers, they subscribed to local papers and invested in the education of their children. Although they did not grow rich from their trades, the Dominy craftsmen provided a comfortable living for their family. Nathaniel Dominy IV (1737-1812) may have trained as a woodworker with his father, documented in town records as a skilled carpenter. Where and from whom he learned the clockmaking and pocket watch repair trades is not known.
Above: Childe Hassam, Old Doorway, East Hampton (Nathaniel Dominy House) 1920. Etching with plate tone. Metropolitan Museum of Art, 40.30.18. 
Nathaniel Dominy V (1770-1852) was born during the tumultuous years leading up to the Revolution. Trained by his father, Nathaniel V engaged in cabinetmaking and carpentry, making furniture and designing, constructing, and repairing mills, houses and barns, while his father focused on clockmaking and watch repair. Both men lived and worked side-by-side under the same roof.
Felix Dominy (1800-1868), son of Nathaniel Dominy V, trained with his grandfather, Nathaniel IV and concentrated on clockmaking and watch repair. As with the other members of his family, Felix contributed to his community. Starting at age eighteen, Felix participated in the local company of the state militia, eventually rising through the ranks to become village brigade inspector, then major of the Suffolk County militia. He gained additional experience in the shop of a New York City clockmaker and watch-repairer in the years 1815-1817.
Felix moved away from East Hampton in 1835, leaving his career in clockmaking and watch repair for more lucrative and secure work, first as keeper of the Fire Island lighthouse and then, by 1844, as manager of a summer hotel on Fire Island. From 1861 to his death in 1868, he owned and managed the Dominy House, a resort hotel in Bay Shore.
The Dominys continued to work as artists and craftsmen well into the nineteenth and early twentieth century. Nathaniel Dominy VII (1827-1910) lived with his grandparents, Nathaniel V and Temperence Miller Dominy, while working for a brief period as a self-employed daguerrian photographer. When Nathaniel V passed away in 1852, Felix and Nathaniel VII each received equal portions of the woodworking and metalworking tools. Felix transferred his share to Nathaniel VII, who continued to use the tools for watch and clock repair and woodworking on a limited basis.

Nathaniel VII supplemented his income by contracting to make boats for the U.S. Life-Saving Service (founded in 1878); serving as a "surfman" for the service; operating the Hook gristmill; renting family-owned farmland; and working as town assessor. When Nathaniel VII died in 1910, the homestead, shops and their contents passed to his son, Charles Mulford Dominy, who continued to track, maintain, and use the tools on carpentry jobs. Charles Mulford Dominy sold the property in 1940 and his children, Robert Dominy, Nathaniel Middlemass Dominy, and Phoebe Dominy oversaw the loan and storage of Dominy tools, accounts, and other manuscripts. They also retained some Dominy-made family furniture and tools.
Woodworking shop interior circa 1940